Align HR Consulting provide a range of extensive services targeting Board/HR Governance; Senior Leadership; and Operational Management levels. The following services focus on attracting, retaining, growing and evaluating people and performance to identify gaps and provide recommendations to ensure business growth and sustainability.
Attract - Talent
Employee Value Proposition (EVP) – work with organizations to determine how best to attract talent and ensure the strengths of the company are aligned to what people want from desirable employers
Psychometric Testing – provide a range of tests to help determine best culture fit
Mentoring Programme – design in-house mentor programmes
Induction – review and build an effective induction programme for new employees to ensure effective transition into the workplace
Attraction strategy and solutions.
Retain & Grow - Talent & People Capability
Leadership Development - developing leadership competencies and framework as well as training matrix at all leadership levels
Training Needs Analysis (TNA) – comprehensive TNA process to ensure the right training programmes are developed to enhance people capability
Training Design – design and develop customized training programmes at all levels within an organization
70 – 20 – 10 People Development Model – customize the holistic people development model into an organization's documentation and practices
Training Curriculum – develop and integrate into the business and capability framework
People Capability Framework & Planning – work with organizations to determine their immediate and future capability needs and develop an action plan to embed and implement into the organization
Performance Management – review performance management strategy, performance appraisal system and processes, develop resources and ensure best practice
Talent Management – review talent management strategy, systems and processes, develop resources and ensure best practice
Succession Management - review succession plan strategy, systems and processes, develop resources and ensure best practice
HR Strategy and Solutions – provide independent and robust service to clients based on comprehensive investigation using performance and evidence based research and analysis.
Evaluation - Talent, People & Culture
Off Boarding / Exiting Service – online exiting questionnaire, telephone interviews, provide comprehensive analysis and reporting
Culture Climate and Employee Engagement Analysis – online surveys, provide comprehensive analysis and reporting
Talent Management Risk Analysis and Talent Bench Strength Assessment - identifying, analysing and assessing talent through extensive evaluation measures to determine talent pipeline and risk areas at all levels of the organisation
HR & People Alignment Audit & Assessment – PE2 is Align HR's very own comprehensive Human Capital audit review process. PE2 is an academically robust analysis of an organisation's HR policies, frameworks, procedures, documentation, systems and infrastructure. The audit process also reviews the organisation's ability to execute and implement their policy and frameworks effectively as well as how the business measures and monitors performance and reporting functionality
Training Evaluation – review of the impact and effectiveness of in-house training programmes. Also provide recommendations to enhance transferability of skills and knowledge to behavioural change back in the workplace.
Align HR have developed 'Information Sheets' on the above consulting services - outlining the Align HR's Way. Each service is customised to clients organisational strategy and integrated systems to achieve the agreed outcomes. Through a consultation process, our academically robust research methodology and analysis approach is explained to ensure best practices are achieved.
Product Services

Align HR Consulting Needs Analysis Approach
The following strategic needs analysis cycle will be used: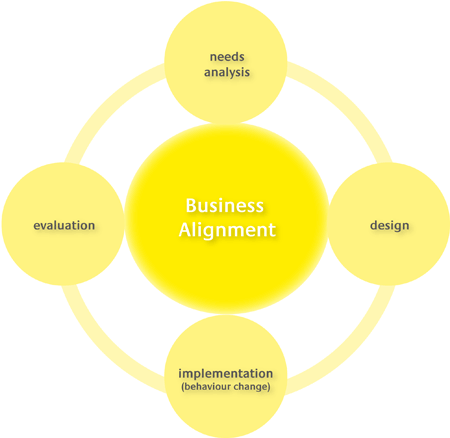 The needs analysis is the foundation of good practice in all people and training solutions activity in any business organisation.
The key to continuous improvement is to find the performance gap - the difference between what employees are able to achieve now and what is required for them to deal with changing circumstances within their organisation.
The strategic needs analysis cycle lies at the core of all of all change. Following the cycle means that we can ensure that all our people and training solutions meets organisational needs and results can be measured. The company will carry out needs assessment work to ensure that the services delivered will meet the needs and aspirations of the existing business framework.
Once a needs analysis has been carried out and the performance need identified, measurable objectives can be developed. These are clear descriptions of what is required and needed to achieve the desired outcomes.
The evaluation process is critical in measuring the desired behaviour change in the people or training solution agreed.
PE2 Human Capital – Audit Framework
PE2 is a human capital quality audit process – that looks at companies human capital assets in three critical areas – strategic and business planning, implementation and operational execution as well as performance and reporting evaluation (PE2). Align HR Consulting uses an academically robust triangulation research methodology approach. The audit process investigates and assesses a company's ability to integrate people and business practices as well as its focus and investment in people. The triangulation methodology uses:
semi-structured staff interviews and focus group
documentation review and analysis
online survey (randomly selected cross section of employees)
Our Human Capital Audit is an in-depth process that provides methodical analysis to companies HR policies, procedures, documentation, systems and infrastructure.
The following areas are reviewed through the triangulation of data collection and analysis by trained consultants:
People Planning
Business strategy and policy
People & Performance strategy alignment

Recruitment & Selection
People Capability Framework
Succession and career planning
Talent pool management
Evaluation tools
Values

Training and Development strategy alignment

Training Matrix
Training curriculum

People Management & Leadership strategy alignment

Leadership capability planning
Leadership framework and pathway
People Execution
Management Execution

Reporting functionality and capability
Succession planning
People development

Training and Development

Training objectives and outputs
TNA

Performance Management

Performance appraisal process
Reward and recognition practice

Leadership, Innovation & Empowerment

Staff decision-making involvement
Internal promotion and succession planning in action
Are the values being practised
People Evaluation
Performance Measurement

Measurable objectives
Alignment to business strategy

Productivity & Improvement

Impact and reporting outcomes.
Outcomes
Identify strengths and weaknesses across the three critical areas:

Planning
Execution
Evaluation

Pinpoint specific areas and issues that require improvement
Recommend best practice solutions that align to business strategy and objectives
Align HR Way
Agree on any specific requirements and deliverables
Carry out triangulation methodology

Presentation & Report
Align HR Consulting will identify any gaps through the assessment process in the above three categories, in comparison to best practice standards. The final audit report will include solutions to all performance gaps that best align to the Company's business integration system.