Why come to Align HR Consulting?
Innovative business model with customised service focus
Boutique, modern, funky, corporate approach
Client centric consultancy that listens and understands client needs
Integrates solutions into organisational goals
Adopts an integrated business approach that seeks alignment to organisational objectives
Creates 'value-add' for organisations to ensure present and future needs are met
The following provides a snapshot of the integral elements that define Align HR's business philosophy and framework. The following elements are also used when providing consulting services:
Capability Alignment Structure
Talent Management Framework
70 – 20 – 10 People Development Model
Training Continuum
Empowerment Philosophy
Organisational Capability Structure
Capability Alignment Model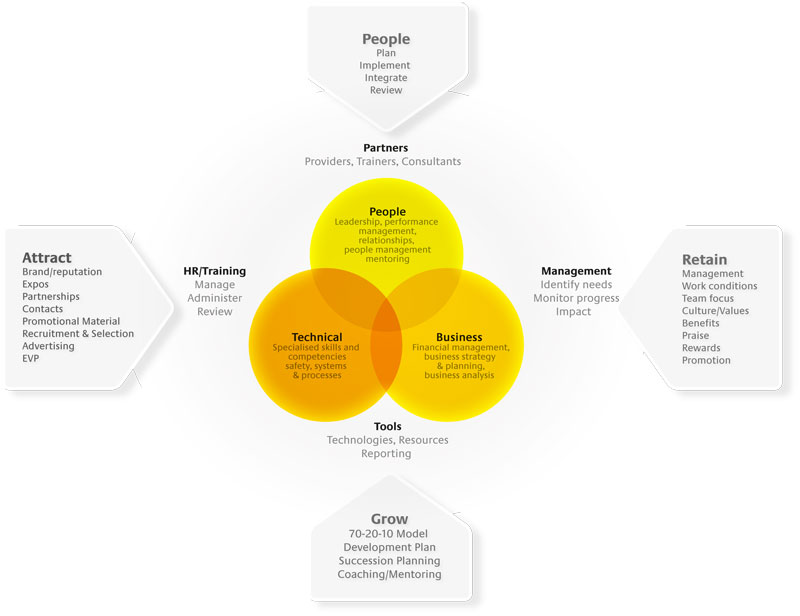 The above diagram illustrates Align HR's integrated people capability model approach. All businesses need to attract, retain and grow its people and each business has a culture and organisational philosophy that needs to be understood before any people and training solutions are established and aligned to impact on a business at any level.
Talent Management Framework
Align HR's Talent Management Framework demonstrates alignment from business strategy to business results. The framework serves as the link between individual performance and business growth. The framework areas provide the platform so a company can attract the right people as well as retain and grow talent to ensure continuous improvement is achieved. We will work with clients to ensure the best possibly solutions are developed and can be integrated across the above critical competency/capability areas so improved business results are achieved in the short to long term.
70-20-10 People Development Approach
Our 'learning philosophy' focuses around the 70~20~10 People Development Model – which can be varied to accommodate the client's organisational needs. Google, Microsoft, BP and Caterpillar are just a few of the many multi-nationals that have taken on board this model of learning which was developed in the late 1980's at the Centre of Creative Leadership (McCall, Eichinger & Lombardo). Align HR can work with Company's to implement a people development model that has a holistic approach to developing people and the business.

Training Continuum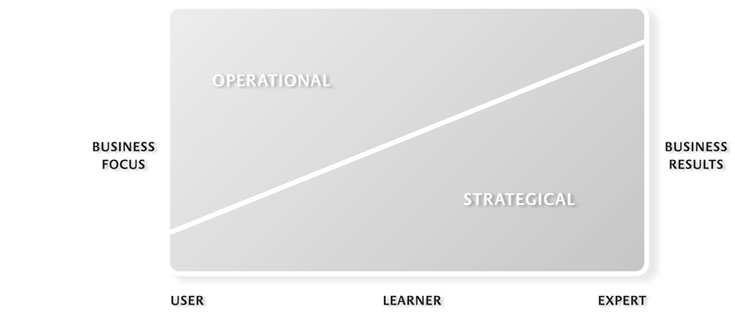 Align HR's Training Continuum above shows how the learning shifts from an operational focus to a more strategic focus as the level of expertise and business accountability increases. At the user level, people need to know the compliance, maintenance and operational fundamental usage and purpose of a tool or skill. However, at higher management levels the analysis and impact of the tool and/or skill becomes more critical to the business decision making process. The training alignment and understanding along the continuum is essential for maximising efficiency, productivity and overall profitability. We work with clients to assess the Training Needs Analysis (TNA) at all levels and consider all aspects of the business and strategic direction as well as immediate and long term capability requirements.
Empowerment Philosophy
Empowerment is a core element of Align HR Consulting's philosophy. We provide clients with a strong understanding and knowledge of an 'empowering organisation' that provides personal and professional growth opportunities through effective and empowering leadership. Empowerment is not simply giving responsibility away, it is very much selecting and ensuring new opportunities are provided to individuals to take ownership and accountability with support and guidance so the business can increase productivity and broaden expertise and capability.
There are three areas essential for effective leadership. They interact upon each other, if you ignore the development of one the effectiveness of the others are reduced.
The following leadership model illustrates the integration of achieving business objectives, empowering individuals and building teams: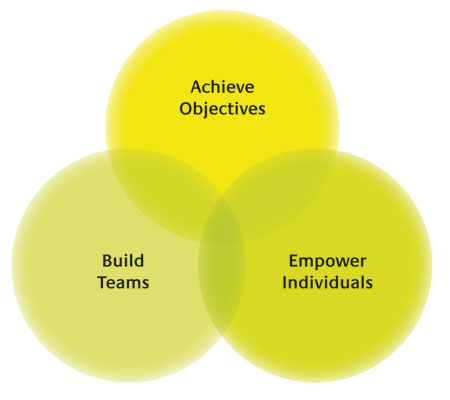 Organisational Capability Structure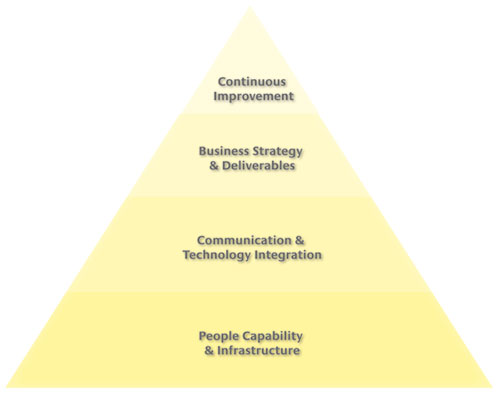 The integration and alignment of an organisation's capability structure determines business success and continuous improvement. People capability is the foundation. At Align HR Consulting we work with clients to determine key capabilities now and in the future and build training and development solutions to ensure business growth.