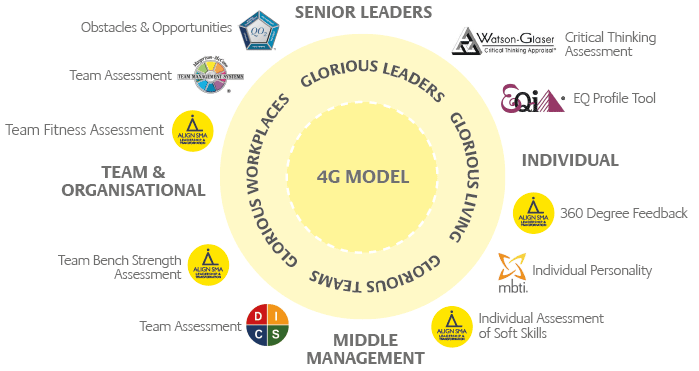 360⁰ Feedback Exercise
Development exercise where feedback is retrieved from members of an employee's immediate work circle – Align SMA's 360⁰ Feedback exercise is based on Align SMA's proprietary models TEAMS and Glorious Leadership

How this links back to organisations:
Uncover individuals' strengths and weaknesses from many perspectives, so as to best target gaps for individuals' development plans
MBTI Personality Profiling
Myers-Briggs Type Indicator (MBTI) assessment is a psychometric questionnaire designed to measure psychological preferences in how people perceive the world and make decisions, based on dominance in each of the four dimensions: sensation, intuition, feeling, and thinking.
How this links back to organisations:
Understand individuals' preferences and world-view that can affect their decision-making in the workplace
ICARE Assessment
Dr. Steve Morris developed the ICARE Personal Effectiveness Model to help people strengthen their interpersonal relationships (people skills). The ICARE Model focuses on 5 key areas (Dimensions), namely :
Initiate - to take the initiative, the first step
Communicate - listen, ask, and speak
Appreciate - respect and care for others
Relate - get to know people as individuals
Educate - train, learn and mentor further growth

How this links back to organisations:
Individuals understand their people skills, and areas in which they need to develop.
DiSC Personality Profiling Tool
DiSC is a personal assessment tool used to improve work productivity, teamwork and communication, through understanding one another's behavioral differences. The test evaluates personalities based on four dimensions: dominance, influence, steadiness, conscientiousness.

How this links back to organisations:
This tool is especially useful in determining job fit between employee and job role, in terms of traits that are preferred in that role
Watson-Glaser Critical Thinking Appraisal
Critical thinking test used to assess and develop decision making skills and judgment

How this links back to organisations:
Tool is especially useful for succession planning, to determine whether employee is able to make sound decisions under pressure
Opportunities-Obstacles Profile Tool (QO2)
QO2 measures an individual's approach to risk

How this links back to organisations:
Understanding how individuals view each situation as an opportunity vs an obstacle, to identify which dimensions to develop to allow people to embrace change
BarOn EQ-i
Measures emotional intelligence based on:
Intrapersonal (Self-Regard, Emotional Self-Awareness, Assertiveness, Independence, and Self-Actualization)
Interpersonal (Empathy, Social Responsibility, and Interpersonal Relationship)
Stress Management (Stress Tolerance and Impulse Control)
Adaptability (Reality Testing, Flexibility, and Problem Solving)
General Mood Scale (Optimism and Happiness)

How this links back to organisations:
One of the contributing factors to an individual's leadership style and effectiveness
Team Fitness Assessment
Measures whether a team is high-performance, and identifies growth opportunities for the team
Team Bench Strength Assessment
Measures how well-prepared the team/team leaders is/are for succession management
Team Management Profile
Understanding of an individual's approach to work, and what qualities they bring to the team